"Empowering women to become elegant again through restoration" is not just our slogan, it's how we, at Hair Therapy for Women®, truly feel. When it comes to damaged hair we offer nanokeratinizing and other salon style treatments.

A Short Explanation of "Nanokeratin"
This is a very simple explanation of nanokeratin and nanokeratinizing. For more in-depth information, please visit the Nanokeratin website.

If your hair is overprocessed, excessively dry, brittle, or feels like elastic or rubber,




Before Treatment

nanokeratinizing can help.

When hair is seriously dry and brittle from exposure to the natural elements of wind, rain, and the sun, or damaged by chlorine or chemical processing, we have the answer! Nanokeratinizing transports nanomolecules of keratin through a very light cold mist to strands of hair. The results produced by the Tanagra Nanokeratinizing System are immediate and visible right after the first application of the product.


After Treatment
Please Explain
Hair, especially hair that undergoes chemical processing, maintains excessive contact with chemical products, and hair that is exposed to constant brushing, can be become brittle. Keratinizing nanotechnology restores hair by reaching areas of the hair that traditional products are unable to attain. It does this by introducing keratin nanomolecules into the flaws and fissures of hair strands. When the strands of hair are recovered, they are ready to undergo new chemical processes.


How does it work?
Nanokeratin nanomolecules penetrate flaws or fissures in the strands of hair and form keratin deposits by evaporating an applied solvent and the residual water normally found in capillary fibers, and in large quantities in more porous hair.

The evaporation is set off by brushing the hair while using a hair dryer. A second product is then applied using the same technique, which results in a polymerizing reaction that begins in the capillary fissure, filling it completely. The polymer formed is transformed into a flexible plastic glue, insoluble in water, increasing the resistance and flexibility of the strands of hair by up to 80%, as of the first application.

How long does a treatment take?
Through this process, the hair can be recovered totally in one session of 60 to 75 minutes.

How can I learn more?
For answers to other frequently asked questions and information about the actual process of nanokeratinizing, visit the the Nanokeratin website, then call Hair Therapy for Women to schedule your appointment for your free consultation on how you can have the full, lush, sexy hair you have always desired

Before Treatment

After Treatment
Obtain the Look You Desire at Hair Therapy for Women

Considering the sensitive nature of hair loss in women, we provide a personal, private, and feminine atmosphere for our clientele to alleviate negative image feelings or embarrassment. Our highly skilled hair additions specialists and technicians develop warm and personal relationships with their clients, strengthening the bond between them. We have carefully chosen our product lines and offer only top quality human hair, hair additions products, and hair care products to the women of the Tampa Bay area. There is no other hair additions facility in any of the five counties surrounding Tampa Bay that caters solely to women.
At Hair Therapy for Women we offer an assortment of hair additions services. Hair extensions and hair weaving for length and fullness, hair integrations for fine and thinning hair, hair replacement for female pattern hair loss, wigs and chemo prosthesis for the more severe hair loss. Perhaps laser hair therapy treatments are the answer for you as they are for over 50% of the women who experience new hair growth with only two 15 minute sessions a week for a limited time! Hair Therapy for Women also offers corrective hair color services, deep conditioning treatments for severely damaged hair, and limited spa treatments.
We Use Only the Most Luxurious Hair and Quality Products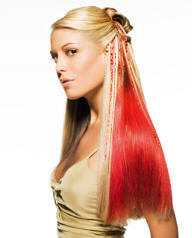 Through years of research, Bobbi Russell has gained expertise regarding the best quality of hair available. As a result, Hair Therapy for Women offers only top quality hair and hair care products from around the world. Temple Hair from India, Remi Hair from Asia, Indo Hair from Indonesia, European Hair from Italy, and Pro-Fiber from Korea.
Our Hair Care Products
We use only the products recommended by our hair manufacturers because of the compatibility of the products to your hair additions, thus ensuring a long and healthy life for your new look.
A few of these hair care products include:
Nioxin

- a full line of hair strengthening products for fine and fragile hair and scalp
Professional shampoos and conditioners and styling products designed for additional hair
Assorted brushes needed for styling and maintaining the additional hair

Styling aids

such as flat irons, blow dryers, curling irons, and more